All Inclusive Fly Fishing Rainbow Trout Ranch Vacations At Rainbow Trout Ranch
The Colorado guest ranch was started primarily as a first-class Colorado fishing lodge. It is without doubt, a fisherman's paradise and the fishing here is second to none.
In fact, our ranch was just ranked one of the top five fly fishing ranches in the country. There is over a mile and a half of private fishing on the exceptional Conejos River which flows through the ranch. Catch magnificent rainbow and brown trout in one of the many fishing holes or off the bridge. Use a fly-rod or a spin-rod—we have both available. We have a fly-fishing guide on staff to take you fishing on our stretch of river, and to instruct you in the nuances of the sport. And remember that all this wonderful fishing is surrounded by the glorious scenery of the San Juan Mountains.
You will find the fishing fantastic here on the ranch, but for those more adventurous fishermen there is the option of spending a day with a local professional fly-fishing guide who can take you into wilderness country where the fishing is unparalleled. Indeed, you can go to a different spot each day, each even more incredible than the day before. Should you be interested, please call us for further details.
Since this is a less traveled part of Colorado, the fly-fishing remains exceptional and many creeks and streams are within easy reach of the ranch. Nearby Elk Creek is easily reached and you can fish upstream to First Meadows and beyond.
We stock basic supplies for use and for rent at the ranch Trading Post. In most of the waters around the ranch you may use flies, spin cast or bait.
In order to preserve our superb fishing we encourage catch and release. However, should you wish, our ranch cooks will prepare your fish at any meal. Or you may prefer to have that trophy trout mounted. It is a great way to remember glorious hours spent on the river.
We are proud to say that according to one of our local professional fly-fisherman, Randy Keys, our stretch of river is the best fishing on the Conejos River. Come and share it with us…
We invite you to join us at the Rainbow Trout Ranch for your next vacation.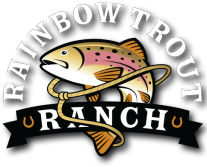 If you like to hunt, fish, hike, or just enjoy the great outdoors, then Rainbow Trout Outfitters is the destination for you.
CLICK HERE for More Information
Rates
| Start | End | Prices from |
| --- | --- | --- |
| | | $2600.00 |